NewsCairo Celebration Choir in collaboration with Dozan Wa Awtar (Jordan)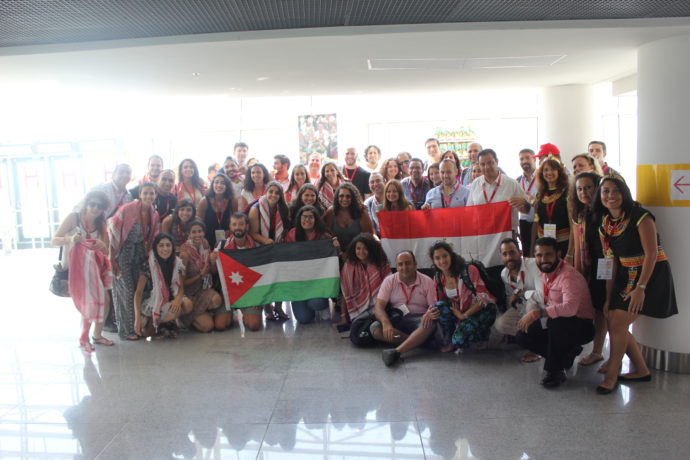 A new and different concert with our guests Dozan wa Awtar - Music Establishment, the Jordanian choir.
We'll sing together their songs along with our songs.
– Main Hall Lobby entrance of the Cairo Opera House, Friday 3rd of February 2017 @ 2 pm.
– Alexandria Opera House "Sayyed Darwish Theater", Saturday 4th of February 2017 @ 8 pm.
Concert brief:
– Cairo Celebration Choir's "Aghani Bel Arabi" is a compilation of folk songs of distinguished Egyptian composers like Sayed Darwish.
It has been a successful attempt from Nayer Nagui to harmonize Arabic music, transcending cultural and class boundaries and developing a cross-cultural taste for music.
These arrangements won the Silver Award for Stylish Interpretation of Arabic music in "Prague Voices" choir competition 2012.
Recently, the choir won the Silver Award Diploma in the category Folklore with Accompaniment at the major worldwide event the "World Choir Games 2016" which was held in Sochi, Russia in July 2016.
– Dozan Wa Awtar works with a wide variety of music in different languages and from different parts of the world, and seeks to enrich their audience with every performance. Past performances have included Western classical masterpieces, Arab choral music, world music, musical theater, and original music.
Rehab Metawi – Traditional Arab Singer
Dina Iskandar – Soprano
Jolie Faizy – Mezzo-Soprano
Greig Martin – Piano
Ramadan Mansour – Tabla
Nashaat Yehia – Req
Arranged & Conducted by Nayer Nagui & Nedy Muna
Ticket: EGP 50
Tickets are available at the Opera and online:
http://cairoopera.org.eg/OnlineReservation/AllEvents